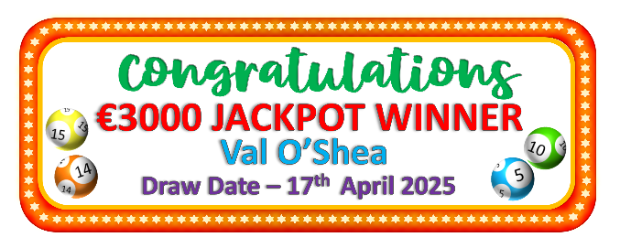 St. John's N.S. Kenmare Fundraiser
GREAT NEWS! Every line in our lotto on 14th December can win our Jackpot and will automatically have a free chance to win one of our local spot prizes.
· €50 Voucher for Mulcahys Restaurant Kenmare
· €50 Voucher for Whytes Centra Kenmare
· Voucher for haircut with Idris Turkish Barber
AWESOME CHRISTMAS PRIZES! - PLUS every line gets a free chance to win one of the awesome Christmas prizes donated by the service provider "Our Fundraiser". This giveaway is open to all organisations who use their service.
• 2 x VIP Taylor Swift Tickets
• A €1,000 Christmas shopping spree
• A Gamers bundle including a PlayStation 5, TV, and gaming headset
• 10 x €100 JD Sports gift cards
• 5 x Luxury Christmas Hampers
Thank you so much for your support, you are making a real difference. Please spread the word with family and friends to join in.
-----------------------------------------------
Welcome to the St. John's National School fundraiser lotto. This is a fundraising initiative and the money raised will be used to directly support your children's education and resources for our school including IT and curricular resources.
As a school we are committed to providing the very best for our pupils.
We will keep you updated about what we have been able to purchase so you can see the positive benefit of your support. We hope that the weekly option of 1 line for €2.50 will allow everybody to contribute.
It would be hugely appreciated if you can contribute €5 for 3 lines, and you never know you might just win!
Thank you so much.
Barry O'Leary, Principal and the Parent's Association